RESOURCES FOR PRESS & EVENTS INTERVIEWERS
Image Copyright: Gemma Day
Ruth Ware is an international number one bestseller. Her thrillers In a Dark, Dark Wood, The Woman in Cabin 10, The Lying Game, The Death of Mrs Westaway, The Turn of the Key, One by One and The It Girl have appeared on bestseller lists around the world, including the Sunday Times and New York Times. Her books have been optioned for both film and TV, and she is published in more than 40 languages. Ruth lives near Brighton with her family. You can find her on Twitter, Facebook and Instagram @ruthwarewriter or at ruthware.com
Image Copyright: Gemma Day
Ruth Ware is the international number one bestselling author of seven psychological crime novels. Her books have appeared on bestseller lists around the world, are published in more than 40 languages, and more than six million copies have been sold.
Her 2015 debut thriller, In a Dark, Dark Wood, about a bachelorette party gone disastrously wrong, was a Book Expo America Buzz Panel Pick, a Richard and Judy Choice, and a Sunday Times and New York Times top ten bestseller. On publication it was described by the Guardian as "mesmerising", by the Independent as "the hottest crime novel of the year", shortlisted for the British Book Awards Debut of the Year, and longlisted for the Theakston's Old Peculier Crime Novel of the Year. It was optioned for film by New Line Cinema, with Reese Witherspoon attached to produce – Witherspoon said of the novel, "Prepare to be scared… really scared!"
Ware followed this up with the cruise ship murder-mystery The Woman in Cabin 10, which was a New York Times number one bestseller, a Sunday Times bestseller, and a Globe and Mail number one bestseller. The novel went on to spend over a year in the New York Times top ten. It was a Goodreads Choice finalist, won the 2017 Readerlink Rising Star Award, and was described as "brilliantly claustrophobic" by the Sunday Times and "pulse-quickening" by O, the Oprah Magazine. It has been optioned for screen by Netflix.
Her third novel, The Lying Game, about a group of friends coming to grips with a secret from their boarding school past, was an instant New York Times bestseller, and a Reese Witherspoon Bookclub Pick for August 2017. It received a starred Kirkus review, which said "Cancel your plans for the weekend when you sit down with this book, because you won't want to move until it's over." Author Marian Keyes described it as "Atmospheric, mysterious, gripping". It was optioned by eOne entertainment for a TV series.
The Death of Mrs Westaway was published in 2018 and was an instant bestseller in both the US and UK. The first of Ware's novels to feature her home town of Brighton, it tells the story of tarot reader Harriet Westaway, who sets out to claim an inheritance to which she is not entitled. Writer Lisa Jewell described it as "an incredible story filled with utterly believable characters and brilliantly told. I absolutely adored it." The Washington Post wrote, "A classic never goes out of style. Consider the confident simplicity of the dry martini, the Edison lightbulb, and Meghan Markle's wedding dress. Now add to that list Ruth Ware's new novel The Death of Mrs Westaway."
Ware's fifth novel, The Turn of the Key was published the following year. It went straight in at number one on the Globe and Mail bestseller list and was an instant New York Times bestseller. In the UK it was chosen as Waterstones' Thriller of the Month. An epistolary novel set in a smart house in the Scottish Highlands, it is told in the form of letters from a young woman to her solicitor, protesting her innocence of the crime for which she is about to be tried. Author Sarah Pinborough described it as "a masterclass in tension" and the Washington Post wrote "Ware pulls out a stunner on the penultimate page that radically alters how we interpret everything that's come before. Brava Ruth Ware. I daresay even Henry James would be impressed."
Her sixth novel, One by One, came out in 2020. A snowy locked room mystery about a corporate retreat in the French alps that ends in murder, it was described as "simply masterful" by Kirkus and "another triumph" by the New York Times Book Review. Author Erin Kelly said that it "confirms Ruth Ware as the true heir to Agatha Christie's crown." It was a top ten bestseller in the US, Canada and across Europe, and was shortlisted for the UK's CWA Steel Dagger prize in 2021. It has been optioned for a TV series.
Her seventh novel, published in 2022, was the "dark academia"thriller The It Girl. Bookseller Hannah lives a tranquil life in Edinburgh – but ten years ago her existence was rocked when her college roommate, April Clark-Cliveden, was brutally murdered. The killer was convicted on Hannah's evidence and died in prison but now, a decade after April's death Hannah begins to wonder… did she get it wrong? It was described by writer Lisa Jewell as "A heady, tense, slowburn dream of a book, multi-layered and steeped in atmosphere and peril" and by the Sunday Times as "a terrific novel about the corrupting effects of class and privilege". It was an instant bestseller on lists including the New York Times and Toronto Star, and has been optioned for TV.
You can find Ruth Ware on Twitter, Facebook or Instagram as @ruthwarewriter or on ruthware.com
"I don't know why we still read books that make us want to leave the lights on at night, lock all our doors, and interrogate our significant others about whether or not they're really impostors living out a decades-long charade to make us slowly lose our minds—but the best-seller list doesn't lie. The latest book to make readers delightfully on edge is Ruth Ware's debut, In a Dark, Dark Wood. Secrets, lies, old friends called together for a reunion in a secluded glass house—this suspense thriller has it all."
"Not long into this story involving a gun and a bachelorette party[…] it's apparent someone is going to die. And if you're like me, you'll find it almost impossible to put this twisting, electrifying debut down until you figure out why."
"A hen night had gruesome consequences for the participants in Ruth Ware's In a Dark, Dark Wood, with a Frank Lloyd Wright-style house in an isolated forest providing the perfect setting. That debut book instantly established Ware as writer to be taken seriously, but she was then faced with the dread 'second novel' syndrome – how to top that first, all-conquering success. Thankfully, The Woman in Cabin 10 bucks the trend of disappointing follow-ups, and is every bit as taut and provocative as the earlier book."
"Now is the time to switch into hibernation mode and curl up on the couch with a deliciously gripping murder mystery. Ruth Ware's new novel, The Woman in Cabin 10, is a page-turner tailor-made for that kind of endeavour… Ware plays on many of the tropes of this fast-paced, high-intensity genre in The Woman in Cabin 10 — including female main characters, flawed protagonists/unreliable narrators, adrenalized plots and emotionally complex relationships — but she finds a way to make these literary devices feel fresh and new, all the while keeping suspense levels intoxicatingly high, allowing one to disappear into the story."
"Thank goodness for Ruth Ware, a contemporary crime writer who's successfully extracted the integral elements of the genre's classics – she's been compared to Agatha Christie, and understandably so – and repackaged them for the modern reader."
"Suspense queen Ware's third novel in three years introduces four women who have been carrying a terrible secret since their boarding school days, a secret that is about to be literally unearthed… Ware's third outing is just as full of psychological suspense as her earlier books, but there is a quietness about this one, a slower unraveling of tension and fear, that elevates it above her others."
THE DEATH OF MRS WESTAWAY
"The Death of Mrs. Westaway is superb. In addition to its brooding atmosphere and labyrinthine mistaken-identity plot, the novel also gives us a heroine of real depth in Hal. As Ware vividly depicts, Hal is hemmed in by her poverty as much as she is by those iron bars on the attic window. Hal can't flee Trepassen House — she has enough money only for a one-way ticket . (She rashly gambled on the chance that she would get some inheritance money right away.) So Hal resolves to settle in. I predict lovers of first-class suspense will also want to burrow into their version of Hal's darkened chamber, shut out the delights of summer and read until the stunning endgame here is played out."
"Ware's fourth novel reaffirms her position as one of the best – and not to mention Sunday Times and New York Times bestselling – thriller writers around today."
"Ruth Ware's latest suspense novel has a lot to measure up to. Its predecessor, The Death of Mrs. Westaway, was one of the best mystery novels of 2018, brilliantly repurposing just about every cobwebby prop in the Gothic warehouse, including a disputed inheritance, a crumbling ancestral mansion and a terrified-but-plucky young heroine. Ware sets expectations even higher by burdening her new novel with a brazen title: The Turn of the Key. What kind of suspense writer would be so reckless as to invoke Henry James's masterpiece of terror and ambiguity and expect to see her own work do anything but suffer in the comparison? Happily, the answer is: a superb suspense writer who is dead set on making her own distinctive mark on the governess-alone-with-weird-children-in-an-isolated-house formula."
"creaking footsteps at night, lost keys, a walled garden filled with poisonous plants, a history of hauntings. Ware tells a cracking tale and, as in her breakout novel In a Dark, Dark Wood the house itself plays a hugely menacing part in proceedings."
 "Our contemporary Agatha Christie offers up her version of And Then There Were None when 11 people are stranded in a ritzy ski chalet and begin dying one by one… Ware does what she does best: Gives us a familiar locked-door mystery setup and lets the tension and suspicion marinate until they reach fever pitch. Another win for Ware and her adaptations of classic mystery traditions. The solution is maddeningly simple but the construction, simply masterful."
"Greed, ambition, manipulation, secrets, nifty plotting and
a cracking denouement add up to a suspenseful and spine-tingling page-turner."
"This is a terrific novel about the corrupting effects of class and privilege"
Joan Smith, The Sunday Times
"This exceptional psychological thriller from Ware probes how much one can trust others—and one's self . . . . Alternating past and present chapters build toward a gripping denouement as nicely chosen details bring each character vividly to life. This showcases Ware's gifts to
the fullest."
Publisher's Weekly (Starred Review)
Photographs of Ruth Ware
Photos are free to use but must be credited to Gemma Day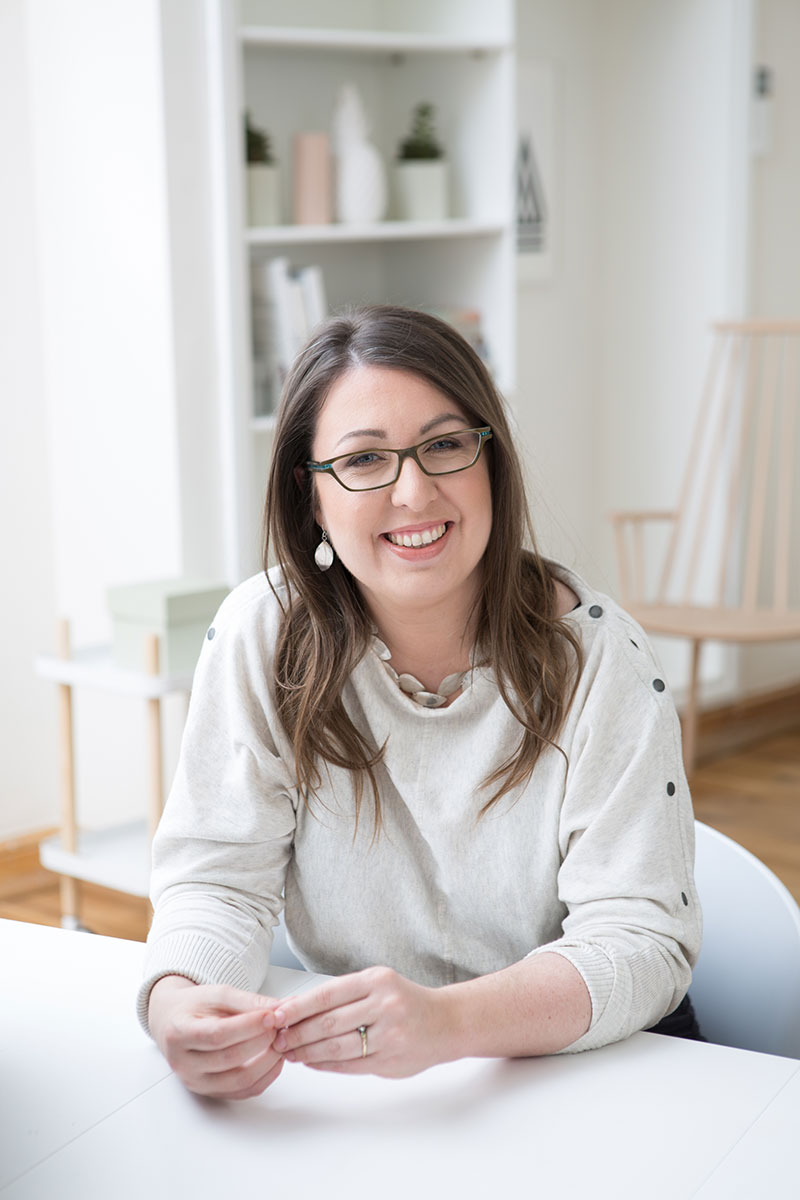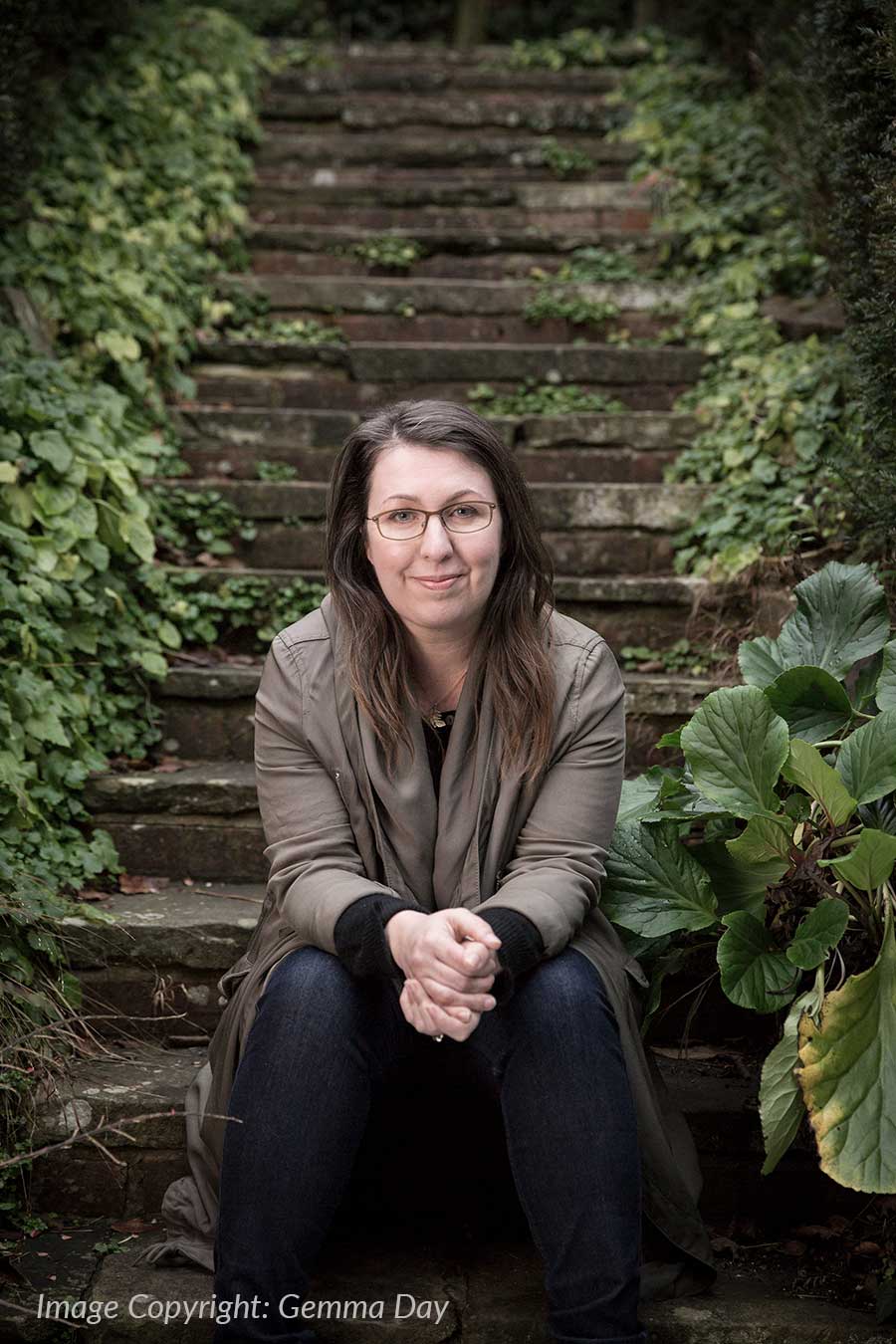 Download Current Book Jackets
THE DEATH OF MRS WESTAWAY
Download Current Book Jackets
FREE SHORT STORY FOR
BOOK CLUB MEMBERS!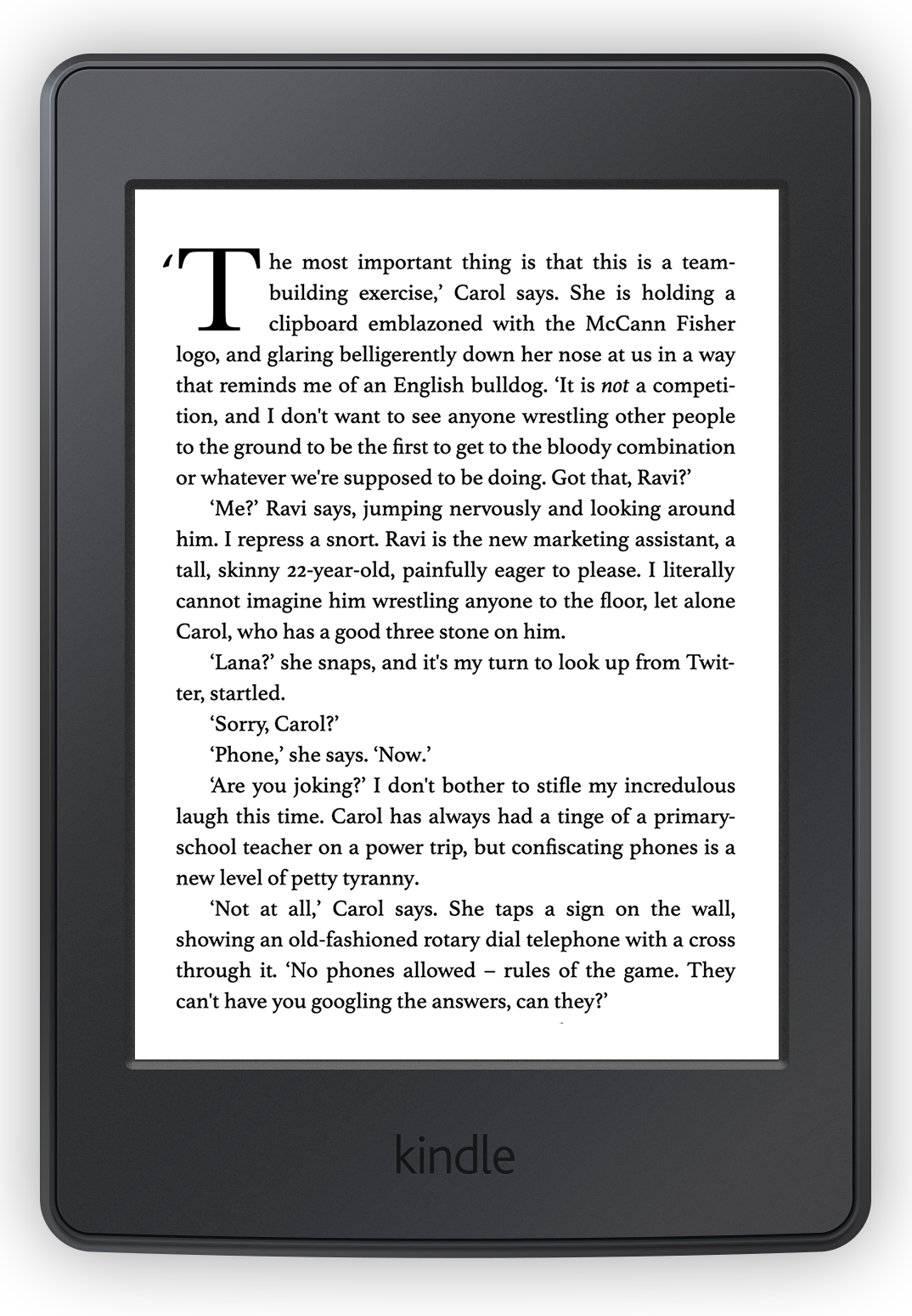 FREE SHORT STORY FOR
BOOK CLUB MEMBERS!
When you sign up to my bookclub, receive my new short story We Will Be Watching completely free.
When Lana and her three colleagues sign up for the "dark, complex and immersive" escape room game, The Masked Ball, they are expecting a fun day out of the office, full of team-building and camaraderie. But someone has other ideas, and as the group struggles to complete the room, it becomes apparent that there is a very twisted mind behind the puzzles and clues.
Can you solve the mystery of The Masked Ball?
* A chance to win a free book! With every newsletter one lucky club member is chosen at random.
* Latest news and book recommendations
* Advance notice of Facebook Live chats with Ruth
* Members-only information including spoiler-filled FAQs about all my books!